For an industry knower, the function of a cooling tower is pretty simple. However, let's talk a bit about these towers so everyone can understand. Well, the cooling tower just like the name works to cool the overall process so the machines can work efficiently. People install these cooling towers as per their needs as different cooling towers work for different sectors.
Cooling towers use water and cooler air to lessen the extra heat and this water gets recycled every time except the 5 percent of it. Now you can understand how useful a cooling tower is as it saves all the water from getting wasted through the recycling process.
Let's hop on to selecting a manufacturer for these towers. There are many companies out there manufacturing cooling towers. In this case, how can you opt for any of them or how do you know which one soul you select? Well, here is the answer and by considering these factors, you will knock on an ideal manufacturer for sure.
#1 Choose the One That Varies In Material Type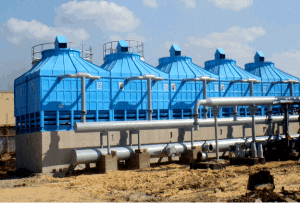 You should always start selecting the cooling tower services providers or manufacturers by looking at the material type they offer. Different materials are used in cooling towers based on their uses and life expectancy. Every cooling tower adds up water in some way, and where there is water, there is corrosion. Other than corrosion, there is water salt that wears out a tower's inner part with time.
Therefore you should always check for the base material and match it with your industrial use. A quality cooling tower manufacturer always offers different types of material. These materials are galvanized steel, stainless steel, and fiberglass-reinforced polyester.
Galvanized steel: This is a traditional material that cooling towers used to have years before. Nowadays, galvanized steel is not in use as it is highly prone to corrosion. Leaks also become noticeable in a few years, and thus it should not be considered.
Stainless steel: the material stands finely against harsh weather and is corrosion resistant. Though it does not hold well with leaks, one can expect 10 to 15 years of life.
FRP: Fiber-reinforced plastic are the ultimate ones that serve you around 30 years. FRP cooling tower manufacturer uses the material so it can stand firm against corrosion, UV rays, and leaks as well.
#2 Consider the Drive Type
Drive type is a mechanism that blows out the hot air and helps in cooling down the aura. There are different types of drive type that manufacturers offer.
Belt drive: whether it is for an evaporative cooling tower or any other, this is the most inexpensive drive that uses a belt to rotate the fan.  The parts are needed to change as they wear out.
Gear drive: this one is more reliable and expensive than belt drive. This one stays sturdy but needs regular maintenance.
Direct drive: this one is the best so far that needs the least maintenance and inspection. You can consider it for your induced draft cooling tower if you are looking to buy one.
#3 Other Important Factors
Other factors that help out for choosing a manufacturer can be the following:
The level of knowledge they contain with the latest cooling technologies
After sales support and cooling parts for crossflow cooling tower or any other tower
Guide on installation and recommending the tower as per your industry and needs
The Verdict
If you want to buy a cooling tower from a quality manufacturer, always test them using these factors. When you the company qualifying in each of these aspects, you can finalize for further process.